Over the course of many years the Beta has moved around the garages, complete or in boxes, been partially built and then stripped again but now it has not only been thrown together but actually ridden!
Over the last two issues of the Classic Trial Magazine we have documented the final build, complete with some more modern additions, and taken it for a play up in Gloucestershire. Issues 34 and 35 if you fancy a read, available from https://www.trialmaguk.com/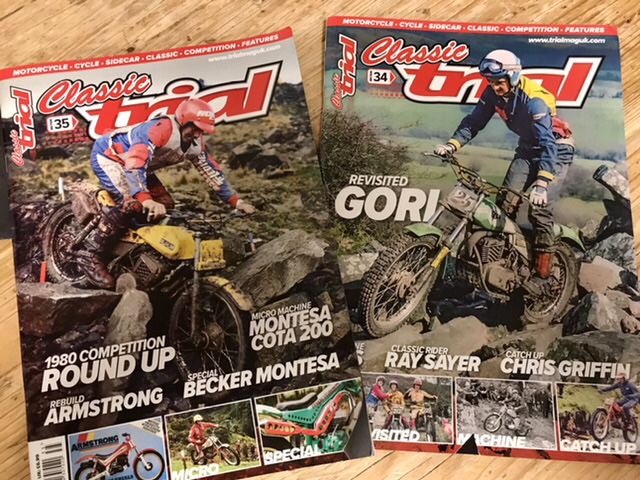 Now the fun can start … it was a fun riding one again for the first time since the late 90's when I had the 1988 version of the TR34, but I've spent the years since riding many different modern bikes and fancy a slightly quicker feel so have decided to try one of those cheap Keihin copy carbs to see how it goes … I think a 28mm may be a bit much for the old engine but worth a try. If it runs ok I'll look for a proper Keihin, if not I'll try a Mikuni like the works bikes of the era used.
The rear shock was rebuilt by Andy Dawson of Ohlins fame, although he did say that the spring I supplied is possibly a bit soft … which is his polite way of saying I'm too heavy for it 😀 … it may get changed or even an Ohlins fitted at some point if I enjoy riding the bike.
Of course since these riding images were taken we have entered a succession of further restrictions and further chances to have a play haven't materialised. I'm looking forward to eventually taking it back over to our play areas in Wales, have a play on a rock or two!
… to make the bike look a bit more presentable I purchased a few sheets of red graphic vinyl and cut out some stripes for the lower part of the tank and seat, and I do have a graphics kit from a recent Factory Beta so may use the swing arm stickers from that. Eventually I'll probably have the seat and tank painted and a new graphics kit fitted. The rest of it may get some paint as well, but as I may end up leaving a fair amount on Welsh rock it may be a waste of time!
I'd like to think I've modernised the bike a bit to make it a bit nicer to ride, but not completely spoilt the classic looks of the 89 bike … which I always thought was the nicest looking bike of the era .. and much better than just about all of the water coolers that came up until the 94 GasGas.